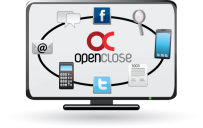 OpenClose had one of its best years in sales while continuing to enhance its product offering to meet the needs of the residential mortgage banking industry. Perhaps the greatest testament to our mortgage software and service is that many of our customers' contracts came up for renewal last year and all re-signed.
Keeping compliance in the forefront, OpenClose has continued to make the loan process easier to use across platforms. Most notably it released OC Optics: a new Enterprise Reporting System that combines configurable management dashboard tools with a powerful graph and reporting solution to be used with its loan origination software.
A matured LOS, OpenClose continues with the spirit of innovators and continued to make strides in burgeoning areas through our social media management software as well as a being a recognized as a financial social media influencer through our blog. According to one recent study, about 52% of U.S. adults now use social media – 81% of people ages 18 to 24, 67% of 25-to-34-year-olds and 59% of 35-to-44-year-olds. In the next 5 years 70% of mortgage originations will come from Gen X and Gen Y consumers. OpenClose anticipates the needs of the industry rather than waits to catch up.